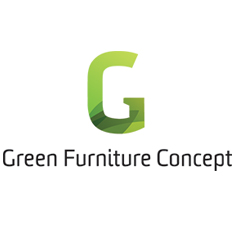 Perfect for large indoor spaces where space is a premium, the company's benches maximise seat utilisation while making efficient use of the space. They can also be rearranged and adjusted at any stage, perfect for environments with changing requirements.
To learn more about this pioneering Swedish company and their innovative range of indoor public seating and lighting, arrange a visit to our showroom today.
For Sustainable Public Furniture, Choose Green Furniture Concept
Green Furniture Concept gives you the freedom to adapt your seating to your changing needs.
With the ability to add new modules on either side, this furniture is completely customisable and can be curved to suit your unique space.
Sound absorbing lamps and pendants – manufactured from natural materials including Swedish birch – are also a welcome addition to large indoor landscapes, and add a gentle ambience to any busy space.
If you are looking for sustainable, flexible and beautiful furniture for large indoor spaces, look no further than Green Furniture Concept. For a quote, simply click on 'Add to quote' on the individual product page to build your Quote List, then send this off to our sales team. We'll then advise on pricing, delivery and installation.