Alma
Unique product design, exquisite design craft.
Using high-quality aluminium alloy through die-cast moulding the Alma Thearter Seats bring design to every public space.
Torsional spring damping recovery mechanism with automatic reurn.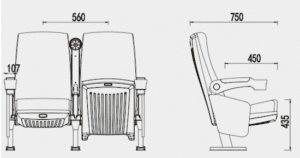 Additional Information
Your venue's seating area will never be the same again after you install ultra-modern chairs. The chairs feature an eye-catching, angular shape and plenty of contouring along with the backrest, which uses high-density molded foam to support your guests.
This model is also designed so that it does not need to be permanently bolted to the floor. It includes long feet so that no bolts are necessary and they can be removed from the area, perfect for multi-use rooms.