Banquette seating, commonly seen in restaurants and cafes, refers to custom upholstered seating units, often built-in and positioned against walls. This seating style is also known as bench seating, booth seating, or fixed seating.
Distinguishing between banquette, booth, and bench seating can be challenging, as these custom-built solutions offer various design possibilities. Sometimes, these terms are used interchangeably:
Banquette: A long upholstered seating arrangement, typically placed against a wall.
Booth: Seating that creates an intimate area, often with two or three seating stretches facing each other and a central table.
Bench: A seating configuration that can resemble a long sofa, available in both straight and curved designs.
Advantages of Banquette Seating
Banquettes offer several benefits, including maximising seating capacity in tight spaces, creating defined zones, adding character through soft upholstered textures, improving acoustics, and providing design flexibility. Many customers find sitting on a generous banquette seat more comfortable than using chairs. You can learn more about booth seating and how to elevate your venues comfort here > 
Disadvantages of Banquette Seating
Banquette seats are susceptible to food and drink spills due to their upholstery. To mitigate this, designers often opt for easy-to-clean materials or patterned upholstery with stain-hiding properties. Installation typically requires a pre-installation survey and professional installation due to adjustments needed for elements like skirting boards or pipes.
Banquette Seating Dimensions
While banquette seating is usually custom-built, certain standard measurements apply, depending on the space type:
Dining Areas:
Seat Height: 460mm (matching dining chairs)
Seat Depth: 470mm
Back Height: 900mm to 1100mm
Lounge Areas:
Seat Height: 460mm (can be lower)
Seat Depth: 500mm to 520mm (for enhanced comfort)
Back Height: 900mm
Cocktail Areas (Poseur Height):
Seat Height: 800mm (matching barstools)
Seat Depth: 470mm
Back Height: 1100mm to 1200mm
Banquette Styles
Various banquette styles include Plain Back, Buttoned Back, Fluted Back, Rolled Back, Deep Buttoned Back, and Chesterfield Back. Each style offers unique aesthetics and comfort levels.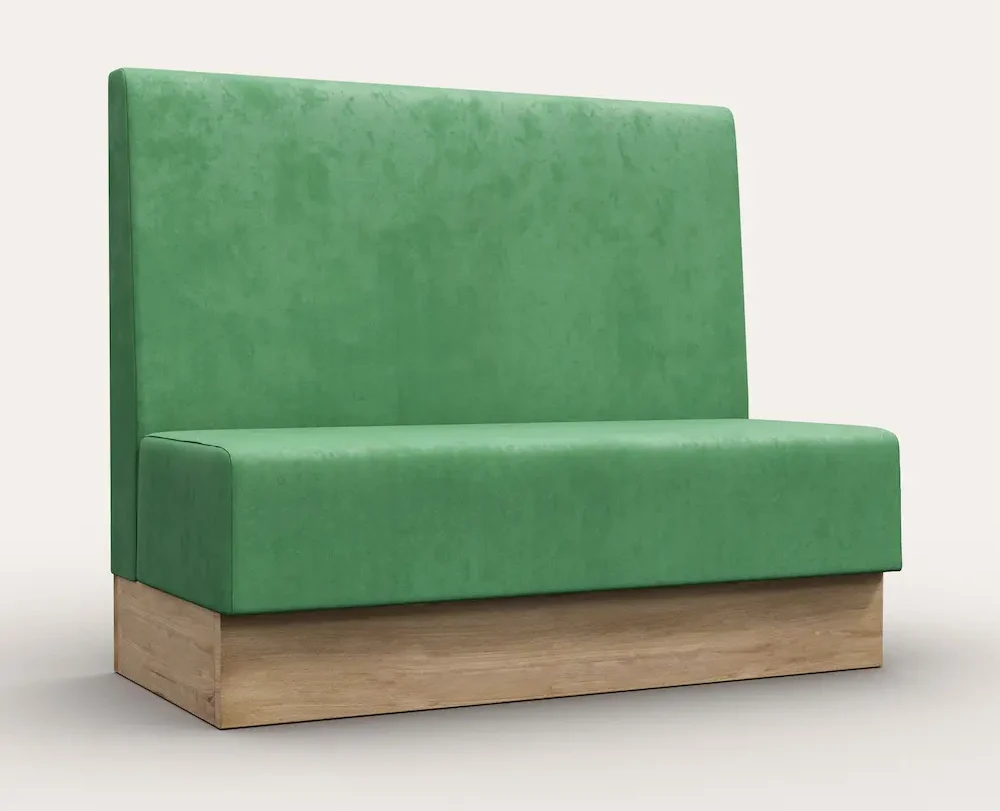 Plain Back
True to its name, the plain back style offers a straightforward and budget-friendly option, featuring clean and unembellished lines. Plain backs can be elevated with the use of patterned fabrics, adding detail without incurring additional upholstery expenses.
One of its practical advantages lies in its ease of maintenance, with fewer creases to trap crumbs and no buttons to snag on clothing, making it a user-friendly choice.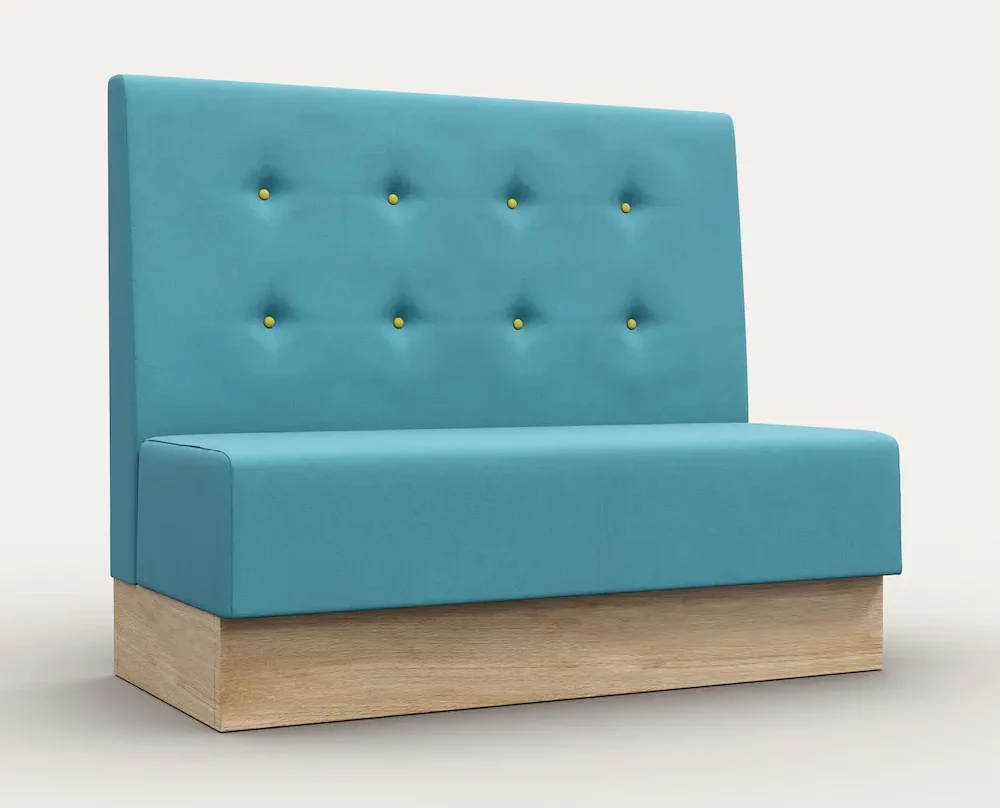 Rolled Back
The rolled back style is characterised by a horizontal tube, typically positioned at the upper part of the backrest.
To enhance the aesthetics of the rolled backrest further, additional horizontal elements can be incorporated, or it can be combined with vertical flutes for added design intricacy.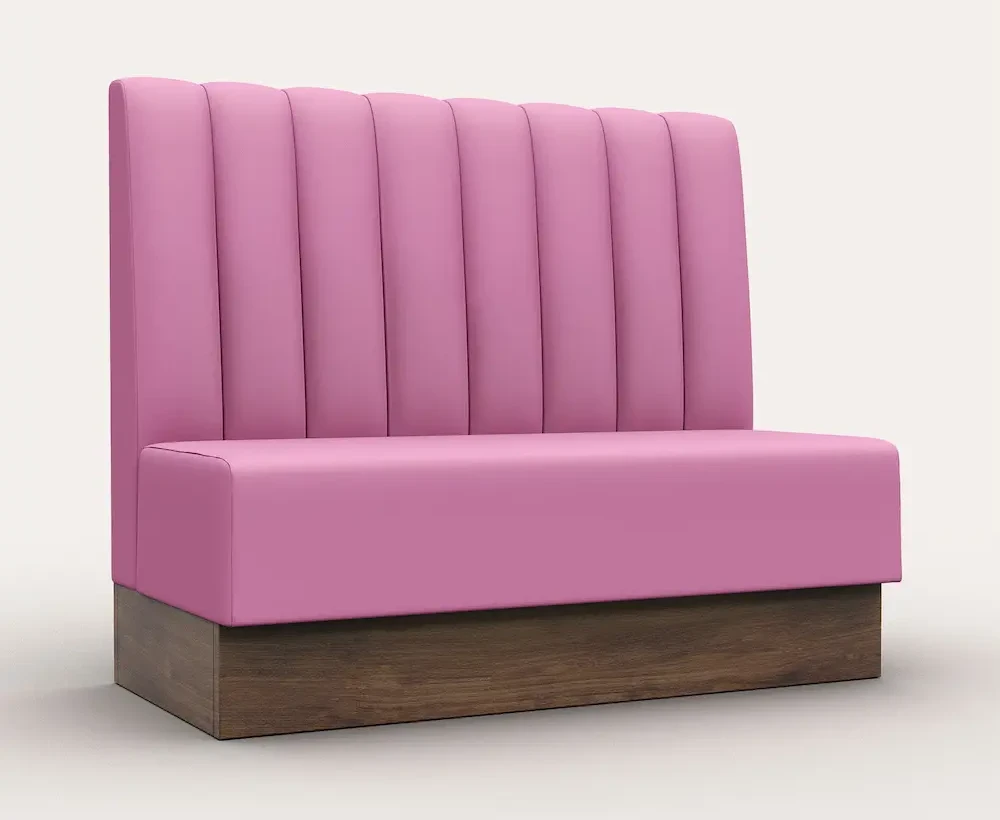 Fluted Back
The fluted back style introduces an element of sophistication, lending a captivating appeal to the banquette. We provide two distinct flute variations to choose from: the Lux fluting, as illustrated here, and the standard fluting.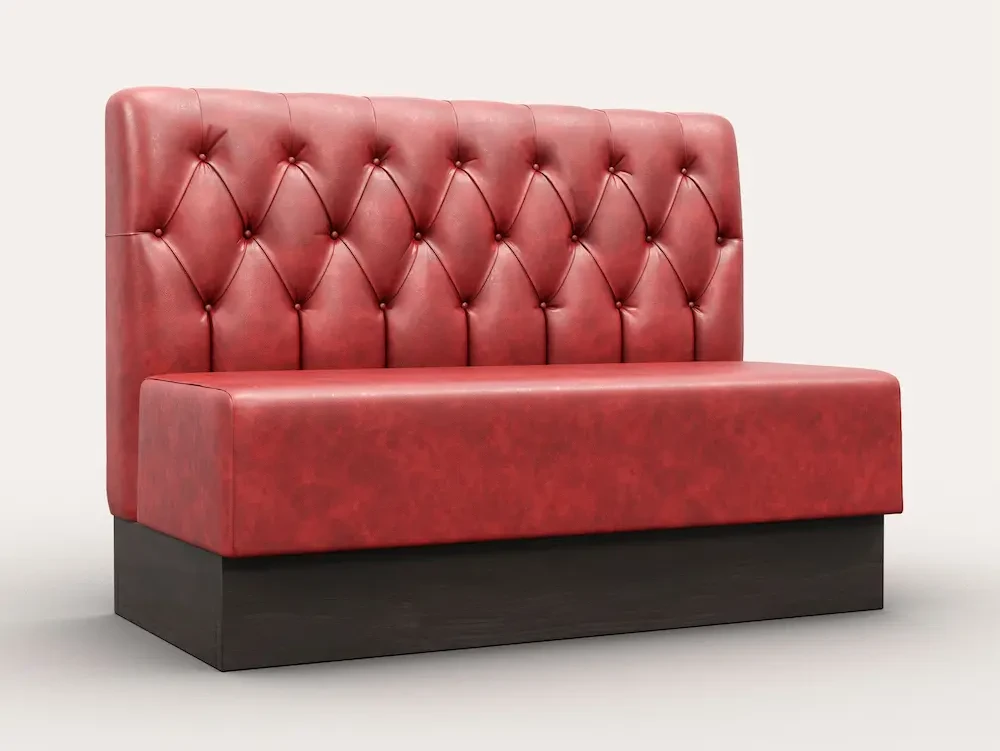 Deep Buttoned
Deep buttoned upholstery represents a traditional craft that entails meticulously creating profound tufts by drawing fabric or leather through layers of padding or foam. This exquisite upholstery technique bestows a classic and opulent ambiance to any space.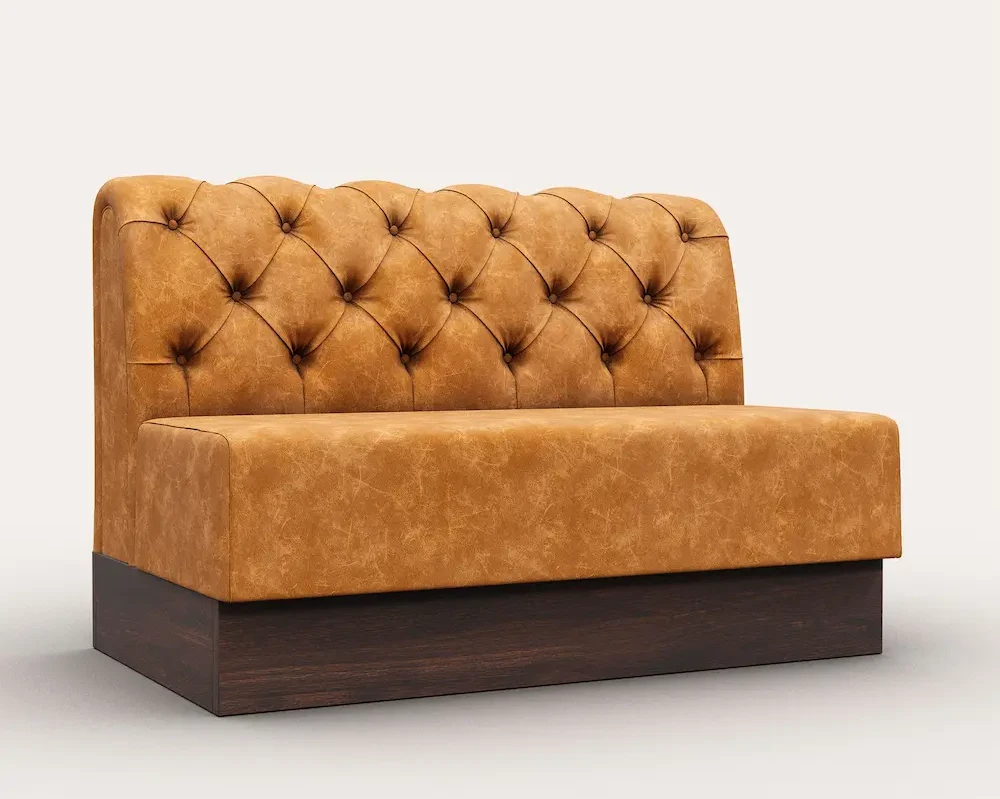 Chesterfield Back
This upholstery style has its roots in the 18th century and owes its name to the Earl of Chesterfield, who commissioned a sofa adorned with these distinctive features.
Chesterfield sofas are renowned for their classic design, typically crafted with leather upholstery, though materials such as velvet are also embraced. The deep button tufting not only imparts an elegant and opulent aesthetic but also ensures a comfortable and supportive seating experience.
Further enhancing its traditional and refined charm, the rolled backrest, typically lower than other banquettes, stands at a height of up to 900mm.
Banquette Seating Base Types
Banquette seating is typically not upholstered down to the floor to prevent damage. Two primary base types are used:
Plinth: A horizontal wooden run that's popular for its tidy appearance and integration of power outlets.
Legs: Increasingly popular, legs provide a lighter, open feel to seating but can be harder to clean and come in styles like turned, square, and tapering.
Stitching Styles for Banquette Seating
Three main stitching styles are commonly used: Top Stitch, Saddle Stitch, and Blind Seam. Bespoke stitching is also an option for customized designs.
Factors Affecting Banquette Seating Comfort
The comfort of banquette seating depends on construction, with options for sprung seating (more comfortable but costlier) and foam-on-board upholstery (budget-friendly). Banquette seating with storage and removable seats is also a practical choice.
Cost of Banquette Seating
Banquette seating is custom-made, so pricing varies based on specific requirements. Standard pricing for common styles and unit shapes is often available, and bespoke requests can be accommodated.
For more information on banquette seating options, visit our Banquette Seating category page or contact our team for personalised solutions.
Topics: Banquette Seating, Styles, Dimensions, Costs
Recent Projects - with Booth Seating
View all booth seating