[et_pb_section fb_built="1″ fullwidth="on" _builder_version="3.18.2″ custom_padding="0px|0px|10px|0px"][et_pb_fullwidth_header title="Victorian Government Furniture Grant" subhead="Maximising your venues outdoor space" text_orientation="center" button_one_url="https://www.silverchef.com.au/apply-for-funding" background_overlay_color="rgba(0,0,0,0.2)" image_orientation="bottom" _builder_version="3.18.2″ title_font="|on|||" background_color="rgba(255,255,255,0)" background_image="https://www.hospitalityfurniture.net.au/wp-content/uploads/2020/09/200915_UKO_WestRyde_18_0205-copy.jpg" button_one_letter_spacing_hover="0″ button_two_letter_spacing_hover="0″ button_one_text_size__hover_enabled="off" button_two_text_size__hover_enabled="off" button_one_text_color__hover_enabled="off" button_two_text_color__hover_enabled="off" button_one_border_width__hover_enabled="off" button_two_border_width__hover_enabled="off" button_one_border_color__hover_enabled="off" button_two_border_color__hover_enabled="off" button_one_border_radius__hover_enabled="off" button_two_border_radius__hover_enabled="off" button_one_letter_spacing__hover_enabled="on" button_one_letter_spacing__hover="0″ button_two_letter_spacing__hover_enabled="on" button_two_letter_spacing__hover="0″ button_one_bg_color__hover_enabled="off" button_two_bg_color__hover_enabled="off"]
[/et_pb_fullwidth_header][/et_pb_section][et_pb_section fb_built="1″ _builder_version="3.0.47″][et_pb_row _builder_version="3.18.2″ background_size="initial" background_position="top_left" background_repeat="repeat"][et_pb_column type="2_3″ _builder_version="3.0.47″ parallax="off" parallax_method="on"][et_pb_text _builder_version="3.18.2″ text_font_size="12px" text_line_height="3em" custom_padding="0px||0px|0px" border_style="solid"]
How It Works
It's without question how hard the COVID-19 pandemic has hit our society, although no one has felt the impact most apparent than those in the hospitality sector. Not only effecting the everyday hours and accessibility of the business, but most importantly it has restricted the growth of the hospitality industry altogether.
Victoria will remodel its roads and footpaths to draw new blueprints for the expanded outdoor dining plan. The new outdoor dining infrastructure is a part of the state's third step in the 'Roadmap to Recovery' process. The plan introduces a mandatory outdoor dining and seating to allow the Victoria's lockdown restrictions to be lifted while still achieving a COVID-safe environment.
In this plan, local councils will receive funding from a $29.5 million share pot to help implement the streamlined licencing, planning and permit to make outdoor dining safe and practical. On top of that, a further $59 million will be used to issue grants for hospitality businesses to fund the purchasing of outdoor furniture and equipment to assist with the transition to COVID-safe outdoor dining.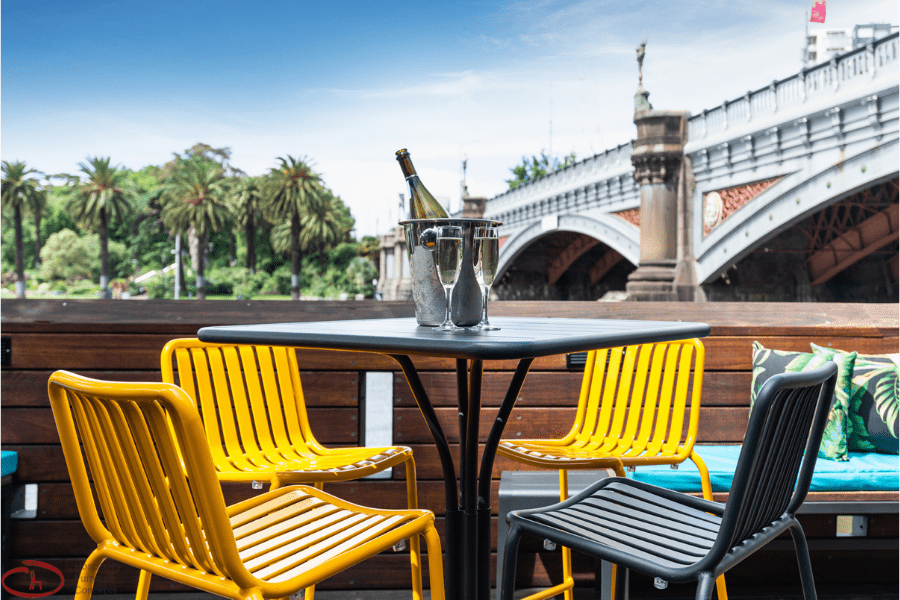 No entry/eligibility details have yet to be confirmed by Vic Gov other than "grants will go towards hospitality businesses with an annual payroll of less than $3 million". Experts advise to keep an eye out for further updates and complete details. Find here).
Tips
At Hospitality Furniture Concepts, we pride ourselves on our exclusive knowledge of outdoor furniture and the unique offerings that our range provides. It's crucial to understand that indoor furniture cannot be re-purposed and used outside, this is due to difference in materials used in indoor/outdoor furniture and their ability to remain durable in all weather conditions and last through the changing seasons. Hospitality businesses have suffered enough, and we want business owners understand the various important considerations when selecting outdoor furniture so these pieces last for many years to come.

+ Design: Outdoor dining offers a unique marketing opportunity. It is crucial to consider the design of your outdoor space to be eye-catching and enticing. Selecting furniture that
+ Durability: Outdoor furniture needs a durability that indoor furniture cannot meet. The effects of wet weather, UV rays and uneven flooring are elements that can only be maintained with furniture customised for outdoors
+ Warranty: The investment of outdoor furniture should be protected and correctly cared for in order to maintain its original look. Indoor furniture commonly has a lesser warranty service protection then outdoor furniture provides
[/et_pb_text][/et_pb_column][et_pb_column type="1_3″ _builder_version="3.0.47″ parallax="off" parallax_method="on"][et_pb_text admin_label="Text" _builder_version="3.18.2″ text_orientation="center" module_alignment="center" border_style="solid" custom_margin="33px||"]
Victorian Government Grants
[/et_pb_text][et_pb_text _builder_version="3.18.2″ background_color="#f7f4ef" border_style="solid"]
[/et_pb_text][/et_pb_column][/et_pb_row][/et_pb_section][et_pb_section fb_built="1″ _builder_version="3.18.2″ background_image="https://www.hospitalityfurniture.net.au/wp-content/uploads/2020/09/200915_UKO_WestRyde_19_0210-copy-1.jpg"][et_pb_row _builder_version="3.18.2″][et_pb_column type="1_5″ _builder_version="3.18.2″ parallax="off" parallax_method="on"][/et_pb_column][et_pb_column type="3_5″ _builder_version="3.18.2″ parallax="off" parallax_method="on"][et_pb_text _builder_version="3.18.2″ text_font="||||||||" text_text_color="#ffffff" text_font_size="33px" text_line_height="2em" header_font="||||||||" header_text_align="center" text_orientation="center" background_layout="dark"]
Get our guide on top things to consider when selecting furniture, how to style your outdoor space and marking it unique.
[/et_pb_text][et_pb_signup mailchimp_list="COVID Response|4aee4f905e" first_name_fullwidth="off" last_name_field="off" email_fullwidth="off" use_custom_fields="on" button_text="Send" _builder_version="3.18.2″ body_font="||||||||" use_background_color="off"][et_pb_signup_custom_field field_id="4″ field_title="Phone Number" field_type="input" _builder_version="3.18.2″ predefined_field="4″][/et_pb_signup_custom_field][et_pb_signup_custom_field field_id="Field_2″ _builder_version="3.18.2″][/et_pb_signup_custom_field][/et_pb_signup][/et_pb_column][et_pb_column type="1_5″ _builder_version="3.18.2″ parallax="off" parallax_method="on"][/et_pb_column][/et_pb_row][/et_pb_section][et_pb_section fb_built="1″ _builder_version="3.18.2″][et_pb_row _builder_version="3.18.2″][et_pb_column type="4_4″ _builder_version="3.18.2″ parallax="off" parallax_method="on"][et_pb_divider show_divider="off" _builder_version="3.18.2″][/et_pb_divider][/et_pb_column][/et_pb_row][/et_pb_section][et_pb_section fb_built="1″ background_video_pause_outside_viewport_1="on" background_video_pause_outside_viewport_2="on" background_video_pause_outside_viewport_3="on" _builder_version="3.18.2″ background_color="#e5e5e5″ custom_padding="0px|0px|0px|0px" global_module="3927″ locked="off"][et_pb_row make_fullwidth="on" custom_padding="37px|0px|0|0px|false|false" background_video_pause_outside_viewport_1="on" background_video_pause_outside_viewport_2="on" background_video_pause_outside_viewport_3="on" background_video_pause_outside_viewport_4="on" background_video_pause_outside_viewport_5="on" background_video_pause_outside_viewport_6="on" _builder_version="3.0.71″ background_size="initial" background_position="top_left" background_repeat="repeat"][et_pb_column type="1_5″ _builder_version="3.0.47″ parallax="off" parallax_method="on" background_video_pause_outside_viewport="on"][et_pb_text _builder_version="3.18.2″ text_font_size="13″]
Showroom
By appointment. Book a time >
259 Victoria St, Abbotsford VIC 3121
Mon – Fri: 10:00am – 5:00pm
hello@hospitalityfurniture.net.au
(03) 9421 6608
[/et_pb_text][/et_pb_column][et_pb_column type="1_5″ _builder_version="3.0.47″ parallax="off" parallax_method="on" background_video_pause_outside_viewport="on"][et_pb_text _builder_version="3.18.2″ text_font_size="13″]
Brands
Accento
Arconas
Arrmet
Calligaris
Capdell
Colos
et al.
Gaber
[/et_pb_text][/et_pb_column][et_pb_column type="1_5″ _builder_version="3.0.47″ parallax="off" parallax_method="on" background_video_pause_outside_viewport="on"][et_pb_text admin_label="Text" _builder_version="3.18.2″ text_font_size="13″]
Luxy
Modus
Paged
Passoni
Pedrali
Pointhouse
Scab Design
Seven Sedie
[/et_pb_text][/et_pb_column][et_pb_column type="1_5″ _builder_version="3.0.47″ parallax="off" parallax_method="on" background_video_pause_outside_viewport="on"][et_pb_text _builder_version="3.18.2″ text_font_size="13″]
SF Collection
Softline 1979
stabilla
Systemtronic
Traba
Vondom
Xedra
Zaneti
[/et_pb_text][/et_pb_column][et_pb_column type="1_5″ _builder_version="3.0.47″ parallax="off" parallax_method="on" background_video_pause_outside_viewport="on"][et_pb_text _builder_version="3.18.2″ text_font_size="13″]
About
Portfolio
Blog
About us
Contact Hospitality Furniture Concepts
Our Brands
Our Services
Jobs
Financing 
[/et_pb_text][/et_pb_column][/et_pb_row][et_pb_row make_fullwidth="on" custom_padding="37px|0px|0|0px|false|false" background_video_pause_outside_viewport_1="on" background_video_pause_outside_viewport_2="on" background_video_pause_outside_viewport_3="on" background_video_pause_outside_viewport_4="on" background_video_pause_outside_viewport_5="on" background_video_pause_outside_viewport_6="on" _builder_version="3.0.71″ background_size="initial" background_position="top_left" background_repeat="repeat"][et_pb_column type="1_5″ _builder_version="3.0.47″ parallax="off" parallax_method="on" background_video_pause_outside_viewport="on"][et_pb_text admin_label="Text" _builder_version="3.18.2″ text_font_size="13″]
Seating
Indoor Chair | Outdoor Chairs
Designer Indoor Chairs | Designer Outdoor Chairs
Booth Seating
Indoor Stools | Outdoor Stools
Designer Stools
[/et_pb_text][/et_pb_column][et_pb_column type="1_5″ _builder_version="3.0.47″ parallax="off" parallax_method="on" background_video_pause_outside_viewport="on"][et_pb_text _builder_version="3.18.2″ text_font_size="13″]
Tables
Indoor Tables | Outdoor Tables
Side Tables | Table Tops
Table Bases | Designer Bases 
[/et_pb_text][/et_pb_column][et_pb_column type="1_5″ _builder_version="3.0.47″ parallax="off" parallax_method="on" background_video_pause_outside_viewport="on"][et_pb_text _builder_version="3.18.2″ text_font_size="13″]
Workplace
Seating
Office and Task Chairs
Lounges
Tables
[/et_pb_text][/et_pb_column][et_pb_column type="1_5″ _builder_version="3.0.47″ parallax="off" parallax_method="on" background_video_pause_outside_viewport="on"][et_pb_text _builder_version="3.18.2″ text_font_size="13″]
Commercial
Arconas – Public Spaces
Waste Management
[/et_pb_text][/et_pb_column][et_pb_column type="1_5″ _builder_version="3.0.47″ parallax="off" parallax_method="on" background_video_pause_outside_viewport="on"][et_pb_text _builder_version="3.18.2″ text_font_size="13″]
Quick Menu
Portfolio
Blog
Quote List
About Us
Contact